SecPoint Products / Portable Penetrator / Portable Penetrator FAQ Part2 /
WiFi Hack WPA
Use Portable Penetrator to recover WPA keys.
Learn how to WiFi hack WPA keys. You can also recover WPA2 keys.
Find out if your access point has been WiFi hacked already.
Learn how to secure it with Windows 10 software.

The best WiFi hack security Software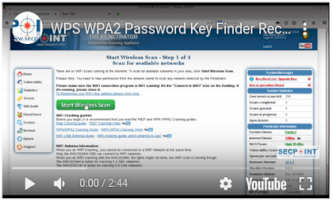 Finding a good WiFi hack is not easy by any means.
You need a software program that is able to hack in to another person's WiFi network remotely, and if you think that the whole process can be accomplished by just pressing a few buttons, you are sorely mistaken.
WiFi hacking is a very different process as compared to standard hacking.
First of all, you can easily shut down your wifi network whenever you feel like it.
If somebody is encroaching on your network, you can limit the usage or completely shut down the network.
Secondly, different WiFi networks use different security encryption types in order to secure their networks.
As a result, most of the time, finding a singular WiFi hack device/ tool is not possible.
Viable hacking options
A lot of people hold this misconception that they can easily download a software off the internet and start hacking their neighbor's wifi passwords.
In a majority of the cases, this does not work.
You can't just go around hacking wifi passwords with the help of a free tool that you downloaded online.
Most of the free tools that you download online are designed to be spamware and adware, and just install a number of pointless ads in your computer, making them hard to get rid off.
However, for those who are looking to hack wifi passwords, all hope is not lost.
There are some really good programs, usually designed by individuals (most of which do not even have a graphical user interface) that are designed to run a number of operations before providing you with a password.
Nowadays, wifi networks have beefed up security.
Whereas previously WEP was being used, now security has become significantly more enhanced with the use of WPA and WPA2 security encryption.
What to do if you want to hack a system
Hence, in order to hack in to a wifi security system, you will require substantial knowledge of computer programming as well.
Computer programming is important as that will help you understand the processes and attacks that can be run on a wifi network in order to hack it.
A lot of people believe that they can go on the internet and download tools that can help them hack wifi passwords.
Unfortunately, that is not true. The sheer number of programs that are available online are mostly designed to increase a person's own customer base, and as a result, do not work as well.
Hence, it can be said that the best wifi hack is one that you create yourself.
Keep in mind however that hacking a wifi network that has enhanced security such as WPA 2 will require you to expend a considerable amount of time, while simple networks like WEP won't take up a great deal of time. Sometimes, brute force attacks are also a very viable option, though you will need to create a make shift tool that can be used in accordance with the network that you wish to hack.
Hence, even though it seems easy, wifi hacking is actually a pretty complicated procedure.