Hakin9 IT Security Magazine German Review
HAKIN9 – Hard Core IT Security Magazine – Number 2/2010 (44) March/April 2010
New Portable Penetrator PP3000 Hakin9 Magazine Review.
To read the full review please click.
To read the review please click Hakin9 Portable Penetrator PP3000 English Review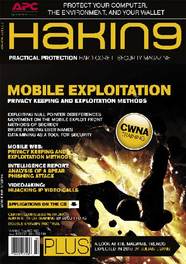 SecPoint Portable Penetrator PP3000
Alongside the prominence of remote systems and cell phones fit for joining with them, the requirement for supplying a fitting security level emerges.
To fulfill this need, SecPoint has offered another gadget - Portable Penetrator PP3000. Its employment is to dissect and check the level of any remote system you choose.
The arrangement has instruments for examining remote systems in your surroundings and serves to perform complete reviews of filtered systems.
It has the capacity split security keys scrambled with WEP, WPA or WPA2.
It oversees to discover crevices in security, as well as gives all important information expected to fill these holes.
All the data with respect to the level of security, its powerless focuses and proposed arrangements of specific issues is displayed in a report, which supplies significant data for those with specialized information as well as those without it.


The preinstalled programming for the Portable Penetrator is program based.
The client interface was intended to present all significant data in a clear way.
In the wake of finishing a short setup transform in which you set your system parameters and register your product, you can begin the checking procedure.
The gadget is equipped for finding all systems in extent - particularly those covered up and also those with an exceptionally powerless sign.
It shows nitty gritty data about these systems, for example, the name, kind of encryption, sign quality and the quantity of joined clients.

When you have picked the system to work with, the time it now, time to confirm its security level.
Contingent upon the kind of encryption and the quantity of joined clients you can pick an alternate technique for assault.
In the event that you pick a lexicon based system you can discover even such outlandish dialects like Iranian or Vietnamese. The supplied lexicons are an exceptionally solid purpose of the arrangement.
The advancement of breaking the security key of a picked system can be effectively checked.
The information comprises of such parameters like the rate of key era, right now tried key or number of keys officially tried.
The pace of key era intensely relies on upon the utilized stage.


Whether you're a security expert or a beginner, Portable Penetrator PP3000 is a gadget which is a complete answer for evaluating and enhancing the level of security of any remote system. Because of implicit report module you will have all the documentation of the security reviews you have directed.
The item costs 999 EUR, which for a complete arrangement like Portable Penetrator PP3000 is an incredible quality for cash.