How are Businesses Blackmailed by Ransomware Gangs - Infographic
Download Ransomware Infographic 736x1684
Download Ransomware Infographic 600x1373
Download Ransomware Infographic full size
Ransomware Infographic Cybersecurity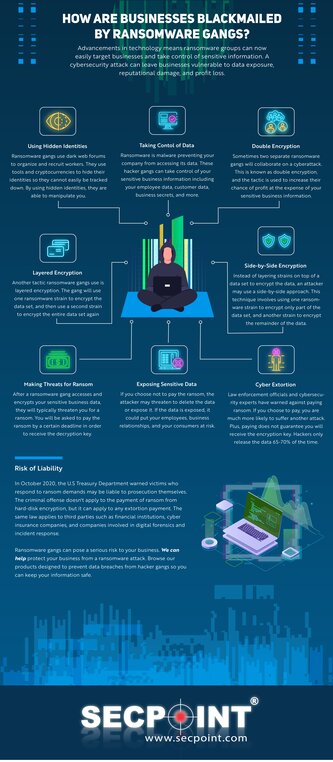 TOP 10 Ways BUSINESSES are BLACKMAILED BY RANSOMWARE GANGS
Advancements in technology means ransomware groups can now
easily target businesses and take control of sensitive information. A
cybersecurity attack can leave businesses vulnerable to data exposure,
reputational damage, and profit loss.
1 Using Hidden Identities
Ransomware gangs use dark web forums
to organize and recruit workers. They use
tools and cryptocurrencies to hide their
identities so they cannot easily be tracked
down. By using hidden identities, they are
able to manipulate you.
2 Taking Control of Data
Ransomware is malware preventing your
company from accessing its data. These
hacker gangs can take control of your
sensitive business information including
your employee data, customer data,
business secrets, and more.
3 Double Encryption
Sometimes two separate ransomware
gangs will collaborate on a cyberattack.
This is known as double encryption,
and the tactic is used to increase their
chance of profit at the expense of your
sensitive business information.
4 Layered Encryption
Another tactic ransomware gangs use is
layered encryption. The gang will use
one ransomware strain to encrypt the
data set, and then use a second strain
to encrypt the entire data set again
5 Side-by-Side Encryption
Instead of layering strains on top of a
data set to encrypt the data, an attacker
may use a side-by-side approach. This
technique involves using one ransom-
ware strain to encrypt only part of the
data set, and another strain to encrypt
the remainder of the data.
6 Making Threats for Ransom
After a ransomware gang accesses and
encrypts your sensitive business data,
they will typically threaten you for a
ransom. You will be asked to pay the
ransom by a certain deadline in order
to receive the decryption key.
7 Exposing Sensitive Data
If you choose not to pay the ransom, the
attacker may threaten to delete the data
or expose it. If the data is exposed, it
could put your employees, business
relationships, and your consumers at risk.
8 Cyber Extortion
Law enforcement officials and cybersecu-
rity experts have warned against paying
ransom. If you choose to pay, you are
much more likely to suffer another attack.
Plus, paying does not guarantee you will
receive the encryption key. Hackers only
release the data 65-70% of the time.
9 Risk of Liability
In October 2020, the U.S Treasury Department warned victims who
respond to ransom demands may be liable to prosecution themselves.
The criminal offense doesn't apply to the payment of ransom from
hard-disk encryption, but it can apply to any extortion payment. The
same law applies to third parties such as financial institutions, cyber
insurance companies, and companies involved in digital forensics and
incident response.
10 Exposing Stolen Data to Family and Friends
When desperate, a ransomware gang can threaten to expose data to family and friends on social media.
This can include compromising pictures and videos.
Ransomware gangs can pose a serious risk to your business. SecPoint can
help protect your business from a ransomware attack. Browse our
products designed to prevent data breaches from hacker gangs so you
can keep your information safe.
As if ransomware wasn't terrifying enough, it is becoming increasingly sophisticated and increasingly cost-effective.
The evolution of ransomware over the past few years has pushed the cost of ransomware in the US to an average of $1,517, with one incident costing more than $19,000.
And that's for the average business, making ransomware an attractive choice for financially motivated hackers.
Organizations will be required to change their practices if they're going to stay ahead of the evolving threat.
Elsewhere, a German train operator was hit by a "sophisticated attack" that reportedly froze 30 trains and left passengers stranded for hours.