SecPoint Certificates
SecPoint is a fully certified information technology (IT) security vendor. It is dedicated to protecting the assets, customers, and online databases of its clients from Internet intrusions or malicious hacker assaults through its extensive line of anti-malware, anti-spam, and content filtering products.

The many accreditations that SecPoint has in its possession do not only attest to its legitimacy as an Internet security firm; it also establishes that it has real-world expertise to meet the ever-growing demand for efficient and affordable online protection and defense services. At any rate, our corporation and its designated hardware vendor are duly certified by ISO 9001, ISO 14001, WEEE, FCC, UL, LVD, MC, and CE.


CVE
CVE is a dictionary of public known it security vulnerabilities. It is open to the public and a good register to compare to.
SecPoint have full CVE Integration in vulnerability scanning reports.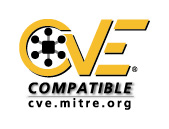 ---
Microsoft Compatible
Microsoft Security Bulletin
Compatible with Microsoft security ids. Easily match when patching your Microsoft Platform.
---
Ubuntu USN Compatible
Penetrator reporting and vulnerabilities will show the Ubuntu USN Number as well.
So you can easily combine it with patching on Ubuntu platforms.

---
HIPAA Compliance
With the Penetrator V26.5 and forward it is now possible to perform HIPAA compliant reporting.
You can choose the HIPAA profile when scanning. With the passing of the HITECH Act the HIPAA Compliance have become more important for healthcare providers and others that handle (ePHI) Information. Electronic Protected Health Information.

---
OSVDB Compatible
OSVDB is an online database of public security vulnerabilities. They are accurate, current and detailed.
SecPoint have full OSVDB Integration in vulnerability scanning reports.

---
BugTraq Compatible
BugTraq is a full disclosure mailing list with detailed discussion of security vulnerabilities. It also consists of a complete very detailed list of vulnerabilities.
SecPoint have full BugTraq Integration in vulnerability scanning reports.

---
SANS TOP25 Compatible
SANS is a trusted source for information security training. The widely used TOP25 list is a must in most scanning environments.
SecPoint have full SANS TOP25 Integration in vulnerability scanning reports.

---
WEEE The Waste Electrical and Electronic Equipment directive's certification proves that SecPoint is a manufacturing company that regularly and properly disposes the waste material generated from its electronic and electrical equipment.