Portable Penetrator™
WiFi WEP WPA WPA2 WPS Cracker Software
With Portable Penetrator you can recover WiFi Passwords WEP, WPA, WPA2, and WPS PINs.
This way you can secure your WiFi network and make sure attackers can not break in with WPA Cracker software.
Most powerful user friendly WiFi Security Recovery Software & WPA Cracker Capability.
64 Bit High Powered Performance Support.

Recover WiFi Passwords from Access Points for WEP WPA WPA2 WPS Encryption.
User friendly setup with easy to use GUI interface.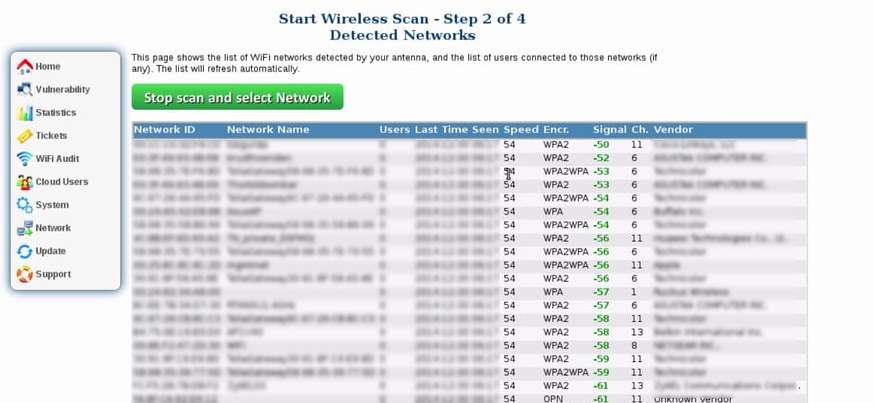 Runs on Windows 10 / 8.1 / 7 / Mac OS X
Powerfully USB Plug N Play WiFi Adapter 1000 mW with 8 dBi antenna for best range.
Allows extended range options for even bigger antenna capability.
Find out if your WiFi network has already been compromised.
It contains clear solutions how to fully secure your WiFi network.
Personalize the PDF Reporting upload your own logo, name and watermark.
No backdoors in the software - No data gathering - All data at customer location.
Is the Portable Penetrator WiFi Auditor the right solution for me?
Made in Denmark - No data recorded. All your data at your site only. No Backdoors.

Easy to deploy Virtual software image for Windows 7 / 8 / 10 , Mac OS X or Linux.

Runs on VMware player, Fusion or other virtual compatible software.

64 bit High Performance.

Password recovery for WEP, WPA, WPA2, WPS.

More than 7 techniques to recover WiFi passwords.

Easily export / import WPA/WPA2 connection handshake for password cracking process.

1.1 Billion word list entries included.

30+ country language word lists included.

Option to use your own word list.

Easy to follow step by step WiFi Security guide to lock down your own WiFi.

Change country and power limit of WiFi Adapter to fit your requirements.

2.4 GHz & 5.8 GHz WiFi Adapter support.

Control WiFi MAC address.

Find rogue WiFi Access Points.

Find out if your WiFi is wide open to compromise.

Up to 9 Vuln Scanning profiles to use.

Schedule automated vulnerability scans.

Easily keep track of vulnerability patching with Ticket system.

DoS, Denial of Service profiles available.

Support for most powerful WiFi USB adapters such as Alfa, Panda and others.

High Speed Cracking support.

Live chat 24/7 support.

Easy to deploy to tech skills required.

Make custom PDF reports with watermark, company name and logos.

Best Professional WiFi Password Recovery Software
To see pricing please click here for our web shop or visit our partner directory for a local sales partner.
Easily Recover WiFi Keys WEP, WPA, WPA2, WPS - WPA Cracker Software
Windows 10, Windows 8.1, Windows 7 and Mac OS X support.
WiFi Security Software - Wireless Security Assessment Tool.

Keep programmers from entering your WiFi Networks by doing WPA Password Recovery!

WiFi Penetrator WPA Cracker will find your vulnerable WiFi Access Points.
Portable Penetrator also features Vulnerability Scanning.
Is your WiFi network secure?
With Portable Penetrator ultimate Wireless Password Breaker you can find out if your WiFi networks are wide open to attackers!
SecPoint delivers the best WiFi auditing products with vulnerability scanning capability.
Portable Penetrator - WiFi Security Testing and Vulnerability Scanning
Joomla Security Scan, Joomla Vulnerability Checker, WPA Cracker.
Do genuine remote hack of your WiFi organize with a specific end goal to secure it.

Keep Hackers from entering your WiFi Networks and take touchy data!

Do genuine WPA Cracking - WiFi Password Cracking.
Click to get an overview of the Portable Penetrator Sitemap
WPS Crack discovery in Vulnerable WiFi Access Points
Popular WiFi Encrypted routers where found vulnerable to a simple WPS Crack Brute Force attack.
This was caused due to a flaw in the prediction of the WPS PIN keys. Hackers with advanced WiFi Cracking Software could perform a real WPS Crack attack.
If the target router was vulnerable to the WPS Crack attack it would render the WPS Pin code to the hacker within hours.
Protect your network and WiFi access points from Black Hat Hackers with professional Portable Penetrator Software.
Portable Penetrator WPA Cracker Software
You can also deploy the Portable Penetrator WiFi Auditor as a MS Hyper-V or VMware ESX, Player edition.
Portable Penetrator WiFi Key Recovery Software
The SecPoint Portable Penetrator includes more than just the WiFi portable version of the SecPoint Penetrator. More to the point, while it is "mobile" and "compact" as an appliance, the "portable" part of its name comes from the fact that it deals with scanning for vulnerabilities in portable devices, particularly their WiFi connections and safety protocols.
The SecPoint Portable Penetrator is the Penetrator variant of SecPoint that's capable of improving the security of portable devices, specifically when it comes to WiFi protection (because a lot of mobile phones, computers, and gadgets use WiFi, such that it's the main avenue of attack for most hackers out there).
In fact, the latest version of the Portable Penetrator WPA Cracker features a WiFi password recovery system that will ensure that you can access your WiFi even though a hacker has breached it and blocked you from access. While you have the Portable Penetrator around, you'll always be assured of worry-free, hacker-free secure WiFi networks that safeguard your personal information from prying and curious eyes.
No matter what WiFi encryption technology you're using WPS, WPA2, WPA, and even the outdated WEP you can be sure of that the Portable Penetrator vulnerability scanner will be there to keep you from falling victim to all the cyber criminals of the world. In essence, before you can make use of the SecPoint Protector to shield and patch up your mobile network from nefarious net ne'er-do-wells and cyberspace invaders, it's only par for the course for you to have the Portable Penetrator WPA Cracker on hand to penetrate your system for you before some other hacker does so. It is better that you're prepared to take on the worst that the Worldwide Web can throw at you from the get go by "hacking" your system beforehand than waiting for a black hat to do it for you.
The Portable Penetrator essentially directs and defines how you'll go about establishing your security measures in light of the vulnerabilities of the system you're using, the patches you need to acquire, the system weaknesses that aren't patched yet, and a variety of other issues. Attackers will have a harder time breaking into a system that knows how they think and has every contingency covered. The Portable Penetrator is even capable of launching real exploits so that you can better develop patches to combat those programs. Recovery of WPS, WEP, WPA, and WPA2 WiFi keys is a relative breeze thanks to SecPoint's portable vulnerability scanner. Your security auditing via this device acts like a vaccine of sorts; it shows your system how a hacker might breach it so that it could better defend its vulnerabilities before attackers could take action.
Find out if your WiFi network is vulnerable to Wireless Hack.
Break WEP, WPA, WPA2. Best Vulnerability Scanning. VMware & Software.
Recoup WPA2 WPA, WEP keys. Programmed WiFi Cracker

Recurrence extends: 802.11 a/b/g/n

Find shrouded SSIds, Vendors discreetly in aloof mode.
2.4 GHz and 5.8 GHz systems.

Genuine WPA Cracking WPA2 Cracking. WPA break, WiFi secret word breaking.

VM Virtual Machine Support - Filter a remote system And see clients

Robotized SSID revelation. SEO Poison Code Scanner
WiFi Vulnerability Assessment - Wireless Vulnerability Assessment

Wordpress Vulnerability Scanning
WiFi password cracker WPA crack - WPScrack - WiFi Unlocker
WPA crack solution - Secure your network for WPA cracking.
With Portable Penetrator you can find out if your WiFi networks are wide open to attackers!
Wireless Security Assessment Tool.
Portable Penetrator offers real WiFi cracking. Drop a WiFi Bomb, Crack

Your WEP WPA, WPA2 encrypted networks. Find out if your WiFi networks are

Secure or if they have already been breached by attackers. Easy to install

Step by step. Easy WiFi network security guide step by step.

Instructions to hack WiFi Recover WiFi secret key

Split WiFi break wep wlan break WPA - WPA split hack WPA splitting WPS break .

Instructions to split WPS WPA WPA2 break.

Simple was splitting WPS saltine break WPA2 with WPS.

WPS Pin Brute Force WiFi ensured setup - Remote ensured setup.
Frequently Asked Questions
What WiFi antennas are used?
It comes with 2 external antennas for WiFi Auditing(included in the price).
A superb 2.4 GHz antenna (Alfa AWUS036h) and a dual band 2.4 GHz and 5.8 GHz antenna (AWUS052NH)
How can it do WiFi Password Recovery?

The Portable Penetrator uses the same techniques for professional WiFi Password Recovery just like real Black Hat hackers will do it.
With Portable Penetrator software you can be assured there are no backdoors, spyware, malware.
No damage will be done during the Pen testing process.
Professional PDF reports will be generated with the results of the Penetration testing of WiFi Password Recovery process.
So you can do full WiFi Auditing
This is done by performing real cracking of WEP, WPA and WPA2.
The idea is to crack your own network in order to secure it.
Which techniques are used for WPA Cracker Software?
There is a combination of up to 7 techniques to carry out WPA Cracker software attacks.
It involved WPA WPA2 DoS attack to capture the connection handshake. Password cracking of the captured WPA WPA2 connection handshake.
The WPA Cracker Software will also perform WPS Cracking, Man in the Middle attacks.
What operating system is Portable Penetrator WPA Cracker?
Portable Penetrator runs on a customized Slackware Linux 2.6 when you start it up you get the login screen and you login.
Where can I find references?
Please visit the customer references and testimonials
How do I buy a Portable Penetrator?
Mainly we work via the channel.
That means we want to sell via resellers all over the world.
To locate a reseller in your country please fill out the short form at the partner locator
If there is no reseller in your country you can mail us at [email protected] or visit our 24 hour open web shop
If you have any questions please mail us at [email protected]

Most of the wireless vulnerabilities are in the 802.11 protocol

The central hub like devices that allow wireless clients to connect to the network.
Wireless clients have some vulnerabilities as well.
Even when WLANs are hardened and all the latest patches have been applied
This is done by doing a real life cracking of your WiFi network. Portable Penetrator cracks, WEP, WPA & WPA2 encrypted networks. It has advanced techniques to do it however the interface is very user friendly and you control it all by clicking with the mouse.
Wep Cracking Wpa Cracking Wpa2 Cracking Vulnerability Scanning WiFi Security Wireless Security Assessment Tool
When it cracks the network it will tell you how it did it and show you the password.
Further more it will tell you exactly how to secure your WiFi networks from WPA Cracker attacks.
Another benefit with Portable Penetrator is that it comes with vulnerability scanning capability so you can go from network to network and scan all the IP addresses for vulnerabilities.
It will then present you a PDF report with an Executive Summary for the non technical staff and a full complete technical report for the tech department so they can quickly close all the found security vulnerabilities. Wep Crack, WPA Crack and WPA2 Crack.
The IP License means that with a 8 IP model you can maximum Scan 8 IP Addresses on the same time. However if you start 8 Scans and in 1 hour all of them are finished then you are allowed to change the IP addresses and do 8 other scans. So the only limitation is how many concurrent scans you can run at the same time.
SecPoint Portable Penetrator WPA Cracker Wins PC World Innovation Award
SecPoint Portable Penetrator Wins PC World Innovation Award (PDF)
Vulnerability Scanning &
Management Is the Key to a strong Security Strategy
The latest automated advanced hacking tools can inflict massive damage throughout a network and even across systems all over the world in a matter of hours. Understanding and knowing the potential security vulnerabilities in your network public servers and within your system is vital to any security strategy. At any rate, Portable Penetrator has all of the features a regular Penetrator has; the only difference is it's mostly used for mobile networks.
Wireless Security Assessment Tool WPA Cracker

60.000+ Remote Unique Vulnerability tests.

8 dBi Powerfully WiFi Antenna included

No software installation is required; the SecPoint Penetrator and Portable Penetrator are ready to run on any machine

Runs in web-based remote mode

Scans anything with an IP address that's running TCP/IP protocols

Discovery Mode automatically detects active IP addresses on your network

10/100/1000 Ethernet connectivity

Hardened Linux OS, Wireless Hack.

CVE Mitre Compliance.

Automatic SecPoint Updates 4 times a day.

Detailed fix information, which includes links to patches and software upgrades

Dynamic reporting capability with Executive Summary and a Technical Details Service that shows all the particulars of a given vulnerability

Sans top 20 scanning profile.

Portable Penetrator, like the standard Penetrator, is a penetration testing and vulnerability management appliance developed specifically for WiFi network use that comes preloaded and ready to go as soon as you get it. It is an effective and intelligent security assessment hardware solution that every WiFi network should have.
Key Features
WEP Cracking WPA Cracking WPA2 Cracking WPA Cracker

Secure your WiFi Wpa2 crack wepcrack wep cracker

Vulnerability Scanning Vulnerability Assessment

Cracking WiFi Securing WiFi
Award Winning Portable Penetrator software to recover WiFi passwords. This includes recovery of WEP, WPA, WPA2, WPS WiFi protected setup keys. You can run the software on Windows 7, 8, Mac OS X or Linux. You connect the powerfully USB antenna and start auditing for wireless networks. It can find hidden networks as well. A user friendly interface allows for easy auditing. Portable Penetrator also comes with full penetration testing capabilities, vulnerability scanning and Vulnerability Assessment.
Thorough Strong & Powerful Vulnerability Scanner.
With its boundless powerlessness checking and appraisal database and use of refined inspecting procedures, the Portable Penetrator empowers you to dependably be one stage in front of even the most gifted and propelled programmers. Both the quantity of IP locations you can check and the enormous measure of security filtering you can do with this gadget are boundless. Hence, the versatile Penetrator is without a doubt the most grounded & most finish compact defenselessness scanner, evaluation arrangement in the business at this given time.
Wireless Pen Testing WPA2 WEP WPA and WPS Cracking
Upgrade your WiFi framework's safeguards by comprehension and know which way programmers assault. You can review your or your customers access point security of remote WiFi organizes by splitting WPS,WEP WPA, and WPA2 systems with our expert programming, industry-standard secret key and encryption testing administrations. On the off chance that your WiFi system is sufficiently secure to withstand our battery of tests and examinations, then script kiddies and programmers don't stand a chance against it! To sweeten the deal even further, Portable Penetrator do furnish substantial lexicons with nation particular dialect choices and WPS PIN code assaults for considerably more viable splitting tests.
Easy-to-Understand Reporting for WPA Cracker
A lot of the reports that the Penetrator makes can be modified, adapted, and saved as HTML, PDF, or XML files. Security holes are normally classified as either low risk, medium risk, or high risk. These system vulnerability records include the names, particulars, and fixes of each code flaw. The report also offers a comprehensive examination on the total protection level of the inspected mobile network. Furthermore, it features an executive summary that specifically compiles graphical and text details from audit results for management-level appraisal.
Portable Auditing Is Flexible WPA Cracker
Obviously, the main advantage that a Portable Penetrator has over its non-portable counterpart is its portability. Compared to a normal Penetrator that needs to be fitted into a 19" rack in order to execute a wide range of auditing solutions to your network, Portable Penetrator is as equally mobile as the networks it protects; you can rest assured that your WiFi network is safe wherever you go. Simply put, SecPoint's dedicated mobile hardware inspector allows you to audit both internal and external IP ranges with ease wherever you may be!
This unique and completely mobile vulnerability evaluation appliance has a limitless scope of auditing ability. For instance, it can audit a never-ending number if IP addresses to even just one particular IP address with equal effectiveness. Its distributed system audits makes all this possible, because it enables administrators to modify their devices' auditor settings to their specific requirements and stipulations.
Because of the mobile hardware's encrypted connection to the SecPoint website, updates for the security hole appraisal device come on a day-to-day basis. This guarantees users the securest, most efficient IT security defence possible by providing them with the freshest lists and records of vulnerabilities whenever they inspect their mobile network.
Best Cyber Security Vulnerability Scanner - UTM Firewall & WiFi Pentesting
SecPoint® is focused to deliver the best most innovative Cyber Security Products

Compatible with