New SecPoint Penetrator Vulnerability Scanner V45.1
The newly released SecPoint Penetrator V45.1 is available for download.
Download SecPoint Penetrator 45.0 Release notes
The new version of the SecPoint Penetrator Vulnerability Scanner & WiFI Pen Testing is available for download now.
Existing users can easily upgrade to the new version with a one click firmware upgrade.
New users can download the newly released September 2019 Software Images.
The Virtual software Images are available in formats for VMware ESXi, VMware Player/Workstation, MS Hyper-V & Linux g4l Ghost image.
The new Powerful SecPoint Penetrator V45.1 features:
New GUI all over the system.
New javascript interactive graphics library.
Fixed a broken link in the web interface.
Vhost issue with IP range: IP ranges are no longer evaluated as domain names, and no Vhost is adde.
The Scan Name field has been enlarged on the home page.
Improved Anti False Positive System.
Scan parser improvement: the parser doesn't search for a space after tokens.
Scan parser improvement: removed duplicate ports when removing duplicated vulnerabilities.
Report issue: if the list of USN vulnerabilities wasn't available, the report could not be created.
New PortScan Engine Updated.
New top banner.
New login banner.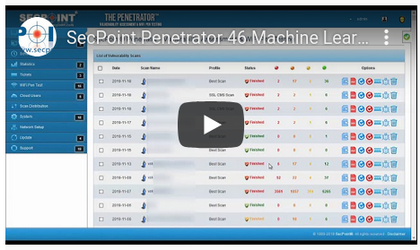 Login to VIP lounge to download latest SecPoint Penetrator.