SecPoint Products / SecPoint Questions FAQ /
Which WiFi Antenna do you Recommend for WPA Password Recovery?
We do recommend the Alfa AWUS036H 1W (1000mW) with extra 8dBi.
This antenna works perfectly with the Portable Penetrator.
You can check it out on our 24 hours open WebShop.
Alfa WiFi Adapter provides highest Quality
The Alfa branded WiFi adapters are in top for carrying our Penetration Testing.
They offer stability, low heat and high power all via the USB ports.
The Alfa AWUS036H is one of the best
To audit 5.8 GHz WiFi encrypted networks it is recommended using the Alfa AWUS051NH.
If you are not sure if your WiFi adapter is compatible with the Portable Penetrator WIfi Security software please contact us with the full chipset and model number of your USB Adapter.
No need for
User friendly installation and support all via the USB ports. Drivers already included in the Portable Penetrator software.
The WiFi adapter
WEP, WPA, WPA2 and WPS auditing and pass recovery
Then we can easily check if it will work fine with the software.
USB WiFi strong for 2.4 GHz Auditing, injecting
2000 mW Ralink USB Power 36000N

6000 mW Realtek RTL8187LKasens G9000 18 dBi

2000 mW WifiSky RTL8187L
2000 mW AWUS036h RTL8187L
300 mW White adapter USB TL-WN722N

500 mW For 5.8 GHz Alfa AWUS051NH V2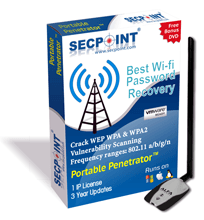 Best Cyber Security Vulnerability Scanner - UTM Firewall & WiFi Pentesting SecPoint® delivers the best most innovative Cyber Security Products