SecPoint Products / Protector /
Protector UTM Anti Spam Appliance Questions FAQ
Here you can get the answer to the most common questions for the Protector UTM Appliance.
Do you not see your question then please mail us.
You can see the questions in the right side menu.
The FAQ frequently asked questions covers both technical and non technical questions.
You can also click our live chat and chat with a representative to get fast reply to your questions.
Some of the questions you can find answered.

The Protector UTM VPN Firewall Supports Client to LAN VPN
Create secure encrypted VPN tunnels between network to network point. Users to network or via SSL VPN that is controlled via the browser.
For the full list of UTM Firewall VPN Questions please see the links in the right side menu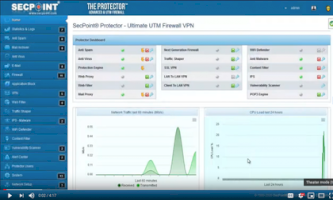 Second to none Cyber Security Vulnerability Scanner - UTM Firewall & WiFi Pentesting SecPoint® delivers the best most innovative Cyber Security Products