You are here: News > SecPoint News > New Penetrator Vulnerability Scanner 9.9 released
» Secpoint NEWS
»

01 December 2011
New Penetrator Vulnerability Scanner 9.9 released
The New Penetrator version 9.9 Released upgrade now.
Upgrade easily now more than 50 improvements.
The firmware is both for the Penetrator and the Portable Penetrator.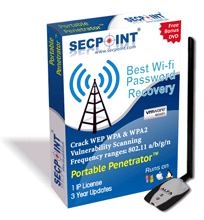 Press release Penetrator 9.9 released.
The new version includes:
- New Support Videos for Wireless antenna connection and real exploits.
- Improved DNS, more smooth DHCP.
- Improved vhost scan
- Improved pdf download
- Improved speed for add IP
- New icon placed
Upgrade now easily.