SecPoint Products / Portable Penetrator / Portable Penetrator FAQ Part2 /
WiFi Password
Recover WiFi password with WiFi Penetrator and find out if your WiFi Password vulnerable to attack by remote attackers.
Have you WiFi Password already been leaked by attackers?
Find out if it is open to attack.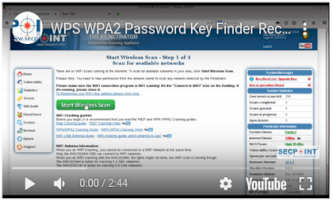 Information about the WiFi Password Windows 10
Having a WiFi password is now an extremely common occurrence.
Each of us now have our own WiFi setups at home, which allow us to gain wireless access to the internet.
Commonly used in laptops, mobile phones, tablets and other devices, the WiFi network allows users to gain internet access at just a touch of a button.
Imagine a sort of 'signal cloud'.
Now, the problem here is, how would you prevent others from accessing your internet connection? That's where the WiFi password comes in to play.
There are a number of different kinds of security keys that are offered, such as the WPA2- PSK, which is the most common technology in use.
Previously, the WPA- PSK technology was used throughout the globe.
The changes
Now, the point here is, it is important to remember your WiFi Password.
Once you enter the password in to your computer of mobile phone, it automatically saves the network and then connects to it automatically whenever you are in range.
But, what if you want to make changes to the settings of the router? That is the reason why the WiFi password is so important.
It allows you to make changes to the settings without much ado.
It also provides significant protection against freeloaders, people who like to use your internet for free.
WiFi options
In many different restaurants and cafes and lounges, WiFi is offered for free, but you still need to know their password in order to access the internet.
Hence, you can now understand the importance of having a strong WiFi Password.
When it comes to keeping your WiFi Password, several things to focus on as well.
For starters, always make sure that the password isn't as easy to guess.
If you find it difficult to remember your password, the best thing that you can do is to use a password manager and save your password in there.
Precautions
If there are people who know you well, they won't find it very difficult to guess the word.
Using simple options such as your birthday, and other common ideas is just foolish and should be avoided at all costs.
Always make sure that the password is one that cannot be guessed easily.
Try using a combination of words, numbers and symbols, as that will also make sure that your password can't be cracked by anybody.
The easiest way to keep your password is to pair it up with a name, and then use numbers in order to complement the password's security.
A large number of people do not exactly know how to set up a decent password, and that is the reason why others are able to access their WiFi Connections.
In most areas of the world, internet connectivity is usually limited.
Your WiFi password is useful if you don't want others using up your allocated bandwidth as well as your allocated volume.
Check out a tutorial on the internet on how to keep a secure password, and then make sure you follow the rules to prevent unauthorized access to your network by others.