SecPoint Products / Penetrator /
Penetrator Awards & Reviews
We are very proud to have the following awards and reviews:
Click the image and links below to get more information.
Innovative Unique IT Security
The Penetrator Vulnerability Scanning Appliance is a first of its kind released as early as 2001.
It gives the user an easy and powerful way to scan large amount of networks.
Getting automatically notified of found vulnerabilities on the target systems.
Virtual Appliance for Hyper-V & VMware ESXi
Customers with an established virtual environment and are not setup to implement physical appliances can easily choose the virtual Images.
The virtual Images gives several benefits such as instant download and deployment. Free Trial periods.
There are different magazines and sites for review.
Innovative Unique WiFi Penetration Testing
The Penetrator has for many years included full WiFi Penetration testing capability included without any extra cost.
It does WPA WPA2 WPS WEP Key recovery in pen testing mode when required.
The Powerful WiFi adapter is also included with the hardware or virtual appliances.
The Penetrator Vulnerability Scanner is one of the most comprehensive and powerful systems on the market.
5 Star 2014 awarded.
The Vulnerability Scanner allows for report rebranding, advanced profiles for scanning, WiFi Security Auditing, Multi User accounts.
Apply for a demo today.

---
Penetrator IT Security Magazine Review
Penetrator reviewed by IT Security Magazine.
Some of the comments:

"The Penetrator is sold completely installed with the all essential applications and modules and it is ready for use."

"One of the basic characteristics is the friendliness of use through flexibly menus, that achieves fast familiarization with the operation system."
"The appliance also has the ability to connect many Penetrators in a distributed network, something that provides a lot of advantages such as central submission of reports, central evaluation"


For more information please see:

---

---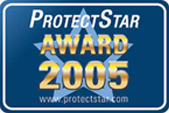 Powerful UTM Firewall, Vulnerability Scanner, WiFi Penetration Testing software
SecPoint is specialized to deliver the best IT security solutions and products.

Compatible with